---
Overview
The PayPal Connector allows you to easily collect one-time payments with your web form. We recommend using our reCAPTCHA feature in conjunction with the PayPal connector in order to better prevent spam submissions.
Our PayPal connector relies on the "PayPal Payments Standard" solution from PayPal.
In order to set up a basic PayPal connector, you must provide the system with your PayPal account information, define how form responses translate into PayPal purchases, and provide messages to keep your users informed about the process. We'll show you how to complete these steps below using the template, Sample Form for PayPal Connector Setup.
Sensitive Data Notice
Credit Card Numbers and CVV Codes must be marked as Sensitive Data. Please click here to read more about these fields.
Note that there are no definite restrictions on what the form may contain or what you may sell with it, but this service is better suited for simple situations, where:
You have a limited number of types of items to sell.
Items have a fixed price and a fixed or variable quantity.
Shipping & handling fees and taxes are applied to the total price.
Here are a few examples:
Selling intangible goods such as music (MP3s), software, ebooks, etc.
Charging a membership or an admission fee.
Charging a flat fee for consulting services.
Accepting donations.
Selling physical goods, to the extent that inventory is not an issue.
Note: The PayPal Connector does not recognize repeating fields. Each field must be manually created in the form. Additionally, the PayPal Connector cannot be used to process recurring payments.

You can only use a single PayPal connector in your Connector Timeline. Using more than one PayPal connector will cause errors.
---
Sensitive Data Notice
Credit Card Numbers and CVV Codes must be marked as Sensitive Data. Please click here to read more about these fields.
---
Purchasing Process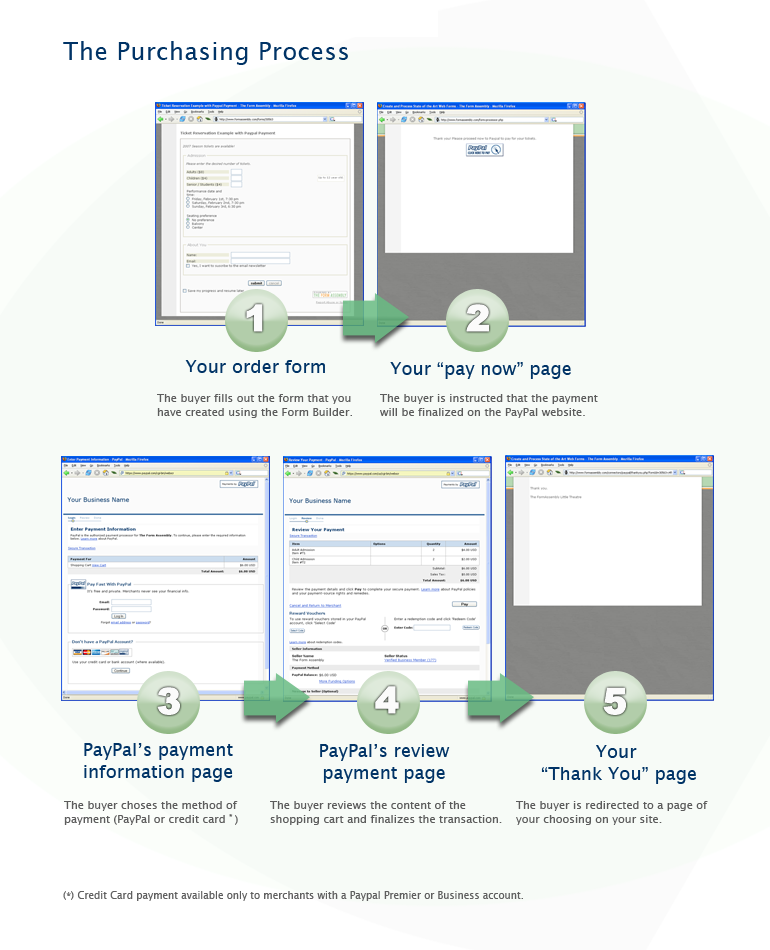 ---
Watch the Video
We also have a blog post available for those interested in setting up a single form that can process both Stripe and PayPal payments.
---
Create an Example Membership Payment Page with PayPal
Open a copy of the Sample Form for PayPal Connector Setup. Familiarize yourself with the form. There are three membership levels, each with a different cost:
Each level can be paid for 1 - 5 months:
Now, we want to bill users for their selection.
Exit the Form Builder and go to the Connectors Page. Add the PayPal Connector into the Form Submitted section of the connector timeline. Finally, click Configure.
---
PayPal Account Information
Inside the PayPal Connector, click Enable to enable the PayPal connector, then fill out the information in Step 1 of 4 - PayPal Account Information using your PayPal account information.
(Note that if you don't know which kind of PayPal account you have, you most likely have a personal account.)
---
Item(s) for Sale
In Step 2 of 4 - Item(s) for Sale, click add your first item for sale.
The form has three items: Platinum Level, Gold Level, and Silver Level and we want to create a separate, single purchase item for each. In this example, these membership levels would be a one-time purchase, as the PayPal connector cannot process recurring payments.
In the Product Name box that appeared when you clicked add your first item, enter Platinum Membership.
In the Product Code, place MEM-PT-001 (the Product Code is a unique reference number you can optionally provide for your own records).
In the Unit price row, select Defined in the form: and select the field containing the membership levels, What membership level would you like?
A table will appear, containing the membership options on the left, and empty boxes to receive the membership prices on the right. In this case, we only want to fill in the cost for a Platinum Level membership. Enter 40.00 (note the lack of a currency $ symbol).
Enter a 0 next to the Gold and Silver options. This will ensure that they will not be recognized as a purchase in this item and we will be able to set them up as separate items with their own specific name and item code.
Note: If you were creating a similar setup, but would like each selection to have the same item name (i.e. Membership Request), you would not need to create separate items and could map every price under the same item.
In the Quantity Ordered: row, select Defined in the form: and select the field How many months of membership would you like to purchase?
Again a table will appear with the choices on the left, and on the right, with blanks for you to enter choice values. In this case, enter 1 for 1 month, 2 for 2 months, and so on, until the item section looks like this:
Now we need to repeat this process for the Gold and Silver options. They will look identical to the mappings above, except you will need to 0 out the respective membership choices for each item. For example, the Gold mapping would look like this:
Now the connector is almost complete. We've created three items (Platinum, Gold, and Silver Memberships) and sold the user a given number of months of that membership (1, 2, 3, 4, and 5).
For the moment, skip step 3 (you can find more information on it here).
Finally, in Step 4 - Pay Now Page, provide your customers with a "Please click here to pay by PayPal" message to be displayed when they order.
Click Save. The message Your connector has been saved should appear after a short wait.
Go to your form, and test out your order process. After clicking Submit, you should be taken a page with your Pay Now Page message and a PayPal button. Clicking on this button will take you to the PayPal website to complete the order.
Within PayPal's payment process, your customers can choose to pay by credit card or PayPal account. If they choose to pay by PayPal they will be automatically returned to your form's Thank You page on completion. If they choose to pay by credit card, they will be taken to a receipt page after payment which will direct them to click to return to your Thank You page.
Please note that sales tax is handled and setup on the PayPal side, not within the FormAssembly PayPal connector.
---
Configure Shipping Addresses and Order Encryption (Optional)
Shipping Address
In most cases when shipping is required, you should allow PayPal to collect the shipping information from your users using the option I need PayPal to collect it for me, as the PayPal system has very stringent checks on the validity of shipping addresses.
However, if you would prefer to collect the shipping information on your form, you can do so using the option My form is designed to collect it. Exporting the shipping address works like the item quantity setting. For each address field, select in the drop-down list the corresponding question in your web form.
Optional Settings
Under Payment Notification, we have a setting for "What should we do when the payment is completed". The default is "Attach the payment receipt to the Response record in FormAssembly". This allows the PayPal response information to be shown in the Responses within FormAssembly.
Please note: The PayPal transaction information will not be received in the response instantly and therefore with this method you would not be able to send the transaction data from PayPal to Salesforce on the initial form submit.
If you manually reprocess individual responses later, after the PayPal data is received (which can be minutes to days depending upon the payment type) you can send the data to Salesforce.
To use this setting you do have to enable IPN within your PayPal account. Go to My Account → Profile → Instant Payment Notification Preferences.
Click Edit Settings and check Receive IPN messages (Enabled). The notification URL is required, but the value doesn't matter here, so any URL will do (e.g., http://www.google.com).
If you would prefer to send the PayPal payment notification to a different URL you would need to follow the PayPal instructions found here: https://developer.paypal.com/docs/classic/products/instant-payment-notification/
Or you can choose to send the PayPal data directly to Salesforce using this information: https://help.formassembly.com/help/make-salesforce-and-paypal-work-together
Note: Sending the PayPal payment notification (IPN) to a different URL is an advanced setting and rarely used.
Order Encryption
By default, the data transmitted to PayPal is not encrypted. This could allow a malicious customer to modify an item price or description before paying for it. This should not be a problem as long as you are checking every order before delivering the goods.
If you have a PayPal Premier or Business account, we can use a secure certificate to encrypt the data. This prevents the risk mentioned above and opens the possibility of automating the delivery process since no manual review of the order is necessary.
To create your secure certificate, follow the instructions in Step 4 of your connector.
Please note that the actual payment occurs on PayPal's website and is always securely encrypted. This particular setting only affects how we transmit the content of the shopping cart to PayPal.